For today's edition of my Top Ten Parks let's head out west to California and the parks of Yosemite and Redwood.
Yosemite Valley, with the massive stone monoliths of Half Dome and El Capitan, is one of the more recognizable parks in the country. The smooth granite cliffs make Yosemite a mecca for big wall clmibers, but there is something to do for everyone.
Yosemite Valley with El Capitan on the left and Half Dome in the center background. Google Images
One of the easier trails that is still worth your while is Brideveil Falls. The trail is very short, approximately half a mile round trip, and the falls are spectacular, tumbling 617ft. This is a great hike for families and those looking for a short excursion, but Bridalveil Falls should warrant a visitor from every Yosemite hiker.
The classic "bucket list" trail is Half Dome. Half Dome rises nearly 5,000ft above the valley floor, peaking out at an elevation of 8,800ft above sea level. The 14-16 mile trail (depending on your route) gains 4,800ft of elevation and is reccommended for experienced hikers only. One of the more famous (or infamous) parts of the trail is the final 400ft of cables that allow hikers to summit without rock climbing equipment. If so well prepared, and take the proper precautions, Half Dome is a trail you do not want to miss.
Half Dome at sunset. Google Images
From Yosemite we move to the northwest corner of California to Redwood National Park and the tallest trees on the planet.
Redwood is located on the Pacific coast, offering visitors much more than just tall trees, although that is, of course, the main attraction. There are various scenic drives and hikes throughout the park that offer visitors a chance to gape at the giants.
Yes, there is a tree you can drive through. Google Images
One must actually see a Redwood tree to truly appreciate its size and place as the largest living thing on the planet. These trees range in diameter from 8 to 20 feet and grow as tall as 375ft. That's taller than the Statue of Liberty from the base of the pedastal to the tip of her torch. They also live up to 2,000 years.
A walk through Redwood brings visitors back to the time of the dinosaurs, when these behemoths still stood guard. Google Images
If the trees aren't enough to hold your attention, head out to the edge of the park and the wild Pacific coastline. Here visitors have opporunities for whale watching, beachcombing, and hiking.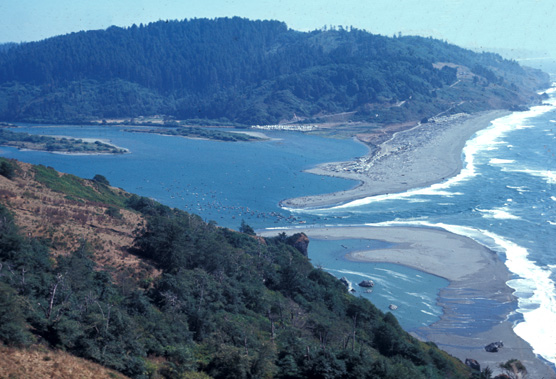 The Klamath River Overlook. Here visitors can look for salmon, seals, sea lions, sea birds and whales. NPS
Come back soon for the final installment of my Top Ten Parks. What are they? You'll have to wait and see. I'm still deciding myself.